Earth Friends Outdoors Homeschool Program
Class details for the 21-22 SY to be announced in late June. We hope to offer classes Mondays through Thursday next Fall, Winter, and Spring. To be added to our interest list, please send your name, your child's name and age, your email, phone number via email to HolzmanS@ExploreNature.org
Earth Friends Outdoors Homeschool program
Our all-outdoor classes are designed to connect children engaged in homeschooling, unschooling or distance learning with the natural world through hands-on, child-led experiences.
All Earth Friends Outdoors classes will follow the health and safety procedures outlined in the Family Guidelines found to the right.

All Earth Friends Classes:
Engage in hikes, live animal encounters, and on-trail investigations across Irvine's 210 acres.
Are led by 2 wonder-filled educator guides.
Limit class sizes to 12-14 students.
Run for an 8 week trimester in the winter (spring term information and registration to come soon).
Spend their entire class time outdoors except for extreme inclement weather.
Use ancestral practices to stay warm in the elements- build or use existing shelters to protect from the wind, movement, fire, and warm drink.
A full gear list will be provided with your welcome letter before class begins. But weather appropriate gear is mandatory! This includes layers, snow suit, waterproof outerlayer and boots, hats, and multiple pairs of mittens/gloves.
Provide documentation to aide in homeschool portfolio reviews.
Follow comprehensive health and safety procedures as outlined in the Family Guidelines found to the right.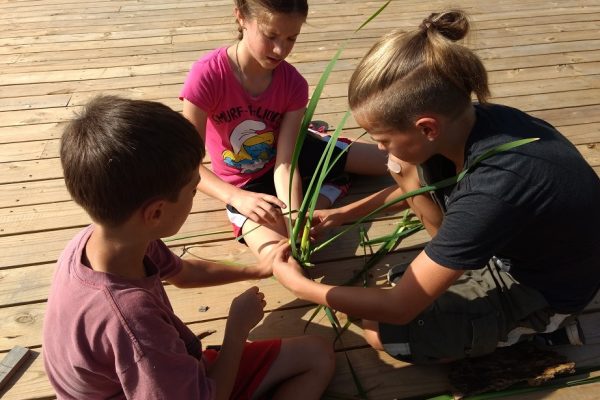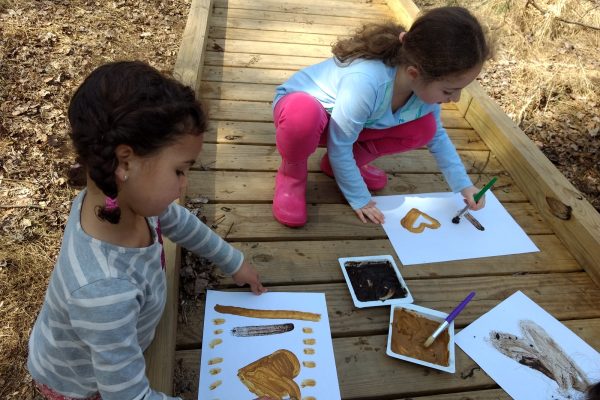 8-week series, March 15 through May 14 (no class week of March 29 and one week makeup allowed after) Check back in May for information about Fall 2021. 
Cost: $360 for nonmembers, $324 for Pacesetters or Teacher Membership.
Please note, families of registered homeschool students qualify for a teacher membership. Click here to purchase a teacher membership. For questions about the Earth Friends Outdoors program, please contact Stephanie Holzman at HolzmanS@ExploreNature.org. For more information about teacher memberships, please contact Elizabeth at 443-738-9241.
Sibling discount: Families enrolling more than one child in an Earth Friends Outdoors class can receive 10% off for each additional child enrolled in Earth Friends Outdoors.
At this time we do not allow families to enroll individual children in multiple classes per CDC recommendations to limit the mixing of group cohorts.
Forest Explorers Age 5-7 (formerly Forest Dreamers)
The trees, animals, and seasons are our guides as we play and learn in nature. Modeled after the Forest Kindergarten model, there are no pre-set lesson plans as we organically discover and learn with what the trails present us each day! We explore ponds and streams, play in the meadow, climb trees, and develop a deep respect for the natural world as we grow to love and trust one another. In our all outdoor gatherings we collect natural items, listen to and create our own stories, build shelters and fires, record our learning in our journals, and create nature art all while emphasizing mindfulness, compassion, and gratitude for the land and its inhabitants.                       
Schedule:  Your choice of Mondays, Wednesdays or Fridays, 9:30-12:30
March 15 through May 14 (no class week of March 29)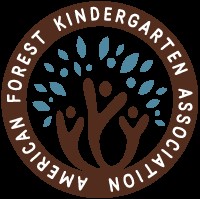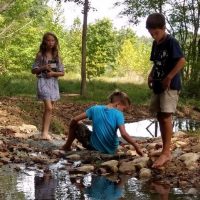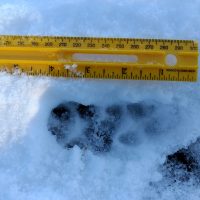 CLASSES FOR CHILDREN AGE 8-12
In their weekly themed classes, older students take a deeper dive into broad nature-based topics while also engaging in child-led exploration and hands-on fun. Our eight-week trimester classes incorporate math, science, social studies, literature, creative arts, and health into the curriculum. Educators share documentation materials via email for homeschool reviews.
Mondays, Arts, Survival & Council
Old ways of learning guide our students in this weekly class to practice nature crafts like dying fabrics, Hapa Zome, grinding stone to make pigments, and other nature arts inspired by our Piedmont area flora and fauna. We will listen to Native Peoples' stories and nature poems that illustrate the path of the peace maker to guide us to gather in harmony with nature. Skills, thrills, and games will encourage learners to work on team skills as we build shelters, forage, track and work with fire.
Schedule: Mondays, 9:30-12:30
March 15- May 10 (no class March 29)
Wednesdays, STEM- Nature Style
STEM integration engages students' inquiry, critical thinking, collaboration, and investigation skills across the content areas of: Science, Technology, Engineering, and Math. At Irvine we also add an A for Art because beauty and creativity surround us. What better place to do all of this than the great outdoors? Our natural setting allows children unlimited opportunities to explore and build using a variety of tools and natural materials. Let's build a ramp, bridge, shelter, or launching device. Let's explore log rolling or the wonders of pulleys. The possibilities are endless.
Schedule: Wednesdays, 9:30-12:30
March 17 through May 12 (no class March 31)
Class Cancellation, HEALTH GUIDELINES and Make Up Policy
Irvine reserves the right to cancel a class due to insufficient enrollment. If Irvine cancels a session, all fees will be fully refunded. If you register your child but then decide to withdraw at any point—before or during the term, membership fees are non-refundable, and you will still be liable for 50% of any unused tuition for the remainder of that term.
Please note, Earth Friends Outdoors follows strict health and safety guidelines to ensure the health and safety of all program participants and staff. Participants are required to complete a daily health screening before participating. For more information about our precautions and guidelines, please see The Family Guidelines above.
Each series has a built-in one-week period for a make-up due to COVID-related closure or weather event at the end of the trimester. If Irvine must cancel more than one class due to a COVID-related event, families will be offered a discount of 50% of the tuition for the duration of the closure. Due to the strong recommendations from health care professionals to limit the mixing of groups, we will not be providing individual students make up days for missed classed due to illness or absence. Nor will a refund be awarded in such absences. For further information about this and inclement weather, please read The Family Guidelines.
What Families Are Saying
We love all the teachers!! Both kids feel very comfortable and safe in their care and free to go on adventures and get wild. I really appreciate that the teachers bring their authentic selves and interests and really connect with the kids and enjoy the journeys. Lots of cool book selections. A great blend of planned experiments/info giving for context as well as exploring and open ended experimenting and discovery.
Emily T., Earth Friends Parent