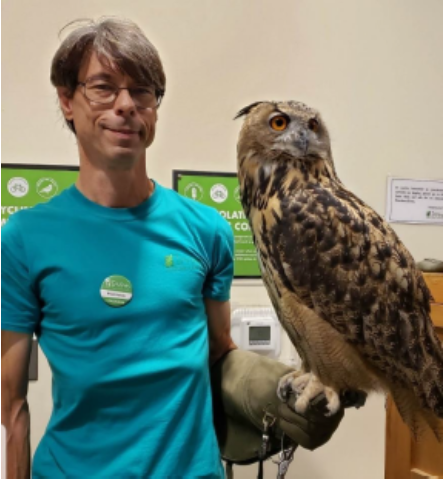 Irvine Nature Center is thrilled to recognize Bryan Feyock, one of our talented and dedicated Animal Care Volunteers, as our February 2020 Volunteer of the Month!
Bryan works tirelessly most weekends at Irvine, helping us care for our 55+ Animal Ambassadors. He always shows great care and attention when working with all of our animals, and is eager to lend a helping hand at events.
"Bryan drives 3 hours one way from his home in Delaware nearly every weekend to volunteer at Irvine," said Jenna Krebs Irvine's Animal Care Manager. "He not only takes excellent care of the birds of prey, but he also assists with public programs and events such as Pumpkinfest. Bryan has been instrumental in the completion (and construction yet to occur) of the perches in the aviary. He is knowledgeable about the birds and loves to share facts and the birds with the public!"
"When I met him as an intern learning to do animal care, I admired how confidently he worked with the raptors," said Maggie Winkler, Irvine's newest Environmental Educator. "His relationship with the birds here at Irvine is unlike any other volunteer, but his dedication to caring for them is what's truly impressive. It's clear that he has a passion for the animals at Irvine and we are incredibly appreciative of all the time he spends here."
Congratulations on this much-deserved honor, Bryan, and thank you for your continued dedication to Irvine and our raptors.