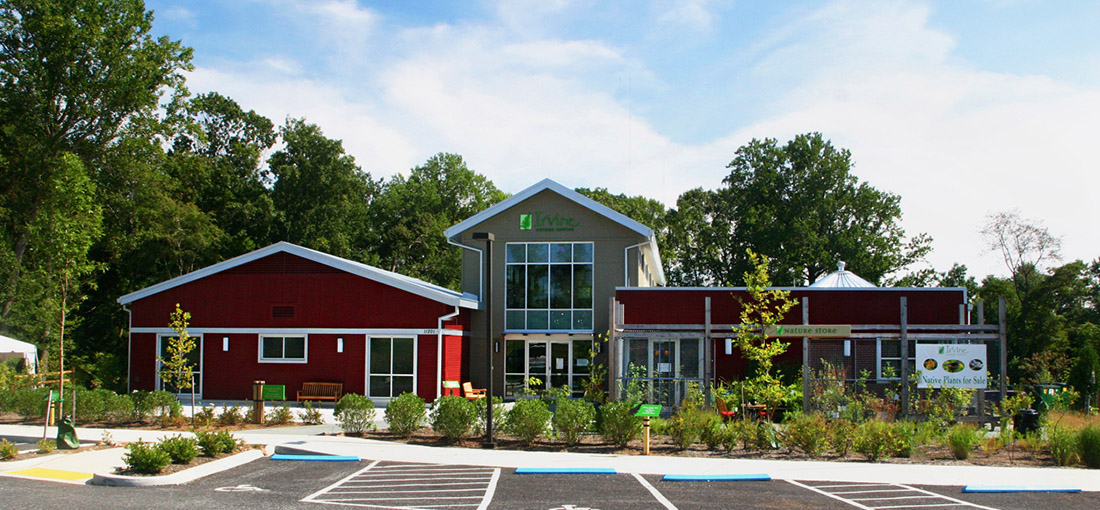 About Us
Founded in 1975, Irvine Nature Center has earned a reputation for providing quality environmental education for all ages. Located in the Caves Valley region of Baltimore County, Irvine provides programs for Baltimore-area schools and the public. We also offer a number of special events each year.
Irvine Nature Center is a non-profit educational organization, offering pro­grams of environmental studies and natural science to children and adults of the greater Baltimore area. We pro­vide these experiential learning op­portunities in many forms, including: Programs for children, families and adults; Field Trips; Nature Birth­day Parties; The Nature Preschool;  Summer Na­ture Camps; Special Events and Green Weddings.
We provide more than 800 program sessions annually to 90,000 children and adults. We also welcome visitors to explore our 210 acres of woodlands, wetlands and meadows; enjoy our resident animals; and our interactive exhibit hall free of charge. Irvine has emerged as a leader among Mary­land's environmental education centers and incorporates a unique and comprehensive focus on the natural science of the Piedmont into its interactive exhibit hall and educational programming.
Through extensive educational program­ming, Irvine's goal is to ex­pose children and adults to the importance of environmental literacy. We show our visitors, members and friends the importance of environmental stewardship and teach a concern for the planet that translates into actions that help preserve our natural world and create a healthier planet.
Please explore our interactive exhibit hall and walking trails. Visitors are welcome seven days a week from 9 a.m. to 5 p.m.
Get directions, read our mission statement or strategic plan, learn our history, get answers to frequently asked questions or learn more about our move to our Caves Valley property. Or, find a staff directory and information about employment opportunities at Irvine.