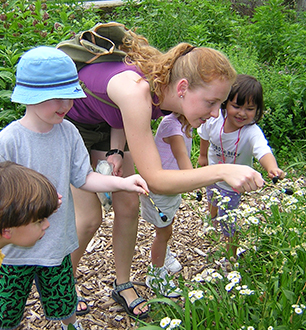 Our Mission
Irvine is an environmental education organization. Our mission is to educate and inspire current and future generations to explore, respect and protect nature.
At Irvine, we guide learning.
We live green.
We foster respect.
And we thrive outdoors.
Our History
Irvine Nature Center was founded in 1975 in an old barn at St. Timothy's School in Stevenson, Md. Today, Irvine is the only private, non-profit nature center in the region. We owe our existence to Olivia Irvine Dodge, our generous founder, who recognized the importance of preserving ecologically significant places and providing environmental education for children.
Read more
Rent for Your Next Event
Irvine Nature Center is an amazing, green setting for your next wedding, business meeting, corporate or social event.
Learn more
Donate Today!
With just a click of your mouse, you can inspire the next generation of the earth's caretakers, assist reforestation efforts in Baltimore County and help the environment. Irvine's impact would be impossible without the kind support of our donors.