Nature Preschool Conference
Our seventh annual Nature Preschool Conference is April 20-21, 2018!
Nature-based preschools are re-focusing the lens on early childhood education. Join us for Irvine's award-winning conference to address the unique benefits and challenges of nature-based curriculum in early childhood programs.
Network with participants from across the country to share and grow the EECE movement! See where professional development intersects with teacher retreat during an inspiring weekend.
This Nature Preschool Conference has been approved by the Maryland State Department of Education as meeting the requirements of a state conference. Participants are eligible for a total of 9.5 clock hours if attending the full conference. Participants must attend a minimum of 6 hours of training to be eligible for Professional Activity Units.
2018 Conference Pricing
Full Conference Friday-Saturday, April 20-21: $195
Full Conference with Camping Fee Friday-Saturday, April 20-21: $220
Friday Only Friday, April 20: $60
Saturday Only Saturday, April 21: $145
Camping – BRING YOUR OWN TENT: $25
Quick Conference Details
25 minutes outside of Baltimore
Prices range from $60 to $220
Rustic camping available on-site for a $25 fee.
Exhibit Hall / Registration Table
Creativity Runs Wild
Karen Madigan and Nature Preschool Staff, Irvine Nature Center
Tour our classrooms and check out dozens of art projects, games and activities that reinforce emergent approaches to nature-based learning.
Wet Sneakers + Dirty Clothes = A Day at Crellin School
Dana McCauley, Crellin School and Sunshine Farm, Crellin MD
There is no ordinary day at Crellin Elementary School! Whether students are exploring their Environmental Education Laboratory, caring for their farm animals, or maintaining the plants in their greenhouse, students spend time actively engaged in nature. Dr. McCauley, teaching principal and Mrs. Friend, kindergarten teacher will share Crellin's journey toward the creation of a learning environment that increases student and community engagement and excitement for learning. By "taking down the school's walls," students and teachers have discovered unique learning opportunities outside. A shift in the school's culture has given teachers the freedom to be creative and foster students' curiosities. Crellin's program is based on the idea that some of the best teaching and learning experiences grow out of a sense of place.
OPENING PRESENTER BIOGRAPHY
Dana McCauley, Crellin School and Sunshine Farm, Crellin, MD
Dr. Dana McCauley has served as the teaching principal of Crellin Elementary School in Oakland, Maryland for the past sixteen years. As the instructional leader at Crellin Elementary School she coordinates and monitors a learning program that guides students to achieve and sustain academic and personal success. Under her direction, Crellin Elementary School participated in a reclamation project that led to the creation of their Environmental Education Laboratory, consisting of a 5.5 acres outdoor classroom, on school property. In addition, the schoolyard is the home of Sunshine Farm, which houses sheep, goats, chickens, multiple gardens and a greenhouse. These unique school features serve as resources for instruction, place-based projects and student research. McCauley holds a B.S. and M.Ed. from Frostburg State University in Maryland and an Ed.D. from West Virginia University.
SATURDAY, APRIL 21st, 2018
CAMPING ACCOMMODATIONS
Pitch your own tent on our beautiful property for a minimal fee ($25). Rustic accommodations do not include shower facilities, but sunrise over the meadow and morning bird songs are pure bliss. (Port-o-potties are in walking distance; campground is a 10-minute walk from the nature center.) Space is limited. Reserve early!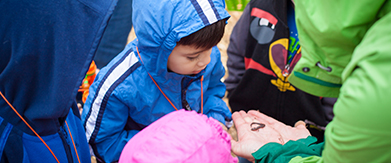 Previous Conference-Goers Had This To Say:
"The networking was great! The workshops were very educational and inspirational."
"Inspired me to keep trying despite setbacks or parental resistance – learn from your mistakes!"
"I really appreciated the "curriculum"/skill connections and the AH-HA about allowing for freedom, risk-taking and engagement."
"I enjoyed the whole experience!"
"There were many concrete and practical ideas for the classroom. I loved seeing ideas from The Nature Preschool open house."
"Your classrooms were inspiring. The grounds are beautiful and your outdoor classroom was great."
"Superior training and Irvine staff!"
"Best preschool conference I've been to!"
"Excellent job! I was very impressed with the whole conference."
"I loved everything and will be back."