Nature Birthday Parties
A happy, hands-on celebration awaits your child during a Nature Birthday Party! We offer several fun-filled options to make your child's birthday memorable. Irvine was named Best Place to Throw a Party for Elementary Ages by Maryland Family Magazine!
See our birthday party info sheet for more information on birthday party themes, pricing and party favors. Please contact Tara Lilley at 443-738-9211 for more information or to reserve a party date.
On-Site Party: No matter which theme you choose, parties held at Irvine Nature Center run for two (2) hours. The leader will direct party activities, both indoors and out, for one (1) hour. Depending on the selected theme, activities may include trail exploration, stories, animal encounters and/or an art project. The classroom is reserved for one (1) additional hour for your guests to use when the party leader concludes activities.
Off-Site Party: Our leaders can bring the party to you! This program will run for one (1) hour at your desired location. The leader will arrive approximately 15 minutes prior to the start of the party to set-up. The leader will present three (3) live animals as well as other natural items (turtle shells, fur, snake skin, etc.) during an interactive presentation.
More On-Site Party Details:
Set-up & Decorations: You may arrive up to 30 minutes prior to the party to set-up. We will provide tables and chairs. Tables are 30 x 70. You may request use of the picnic tables outside, weather permitting. You provide the table linens, dinnerware and decorations. Banners and streamers are permitted if all tape and/or string are removed at the conclusion of the party. Noisemakers, balloons and/or piñatas are not permitted.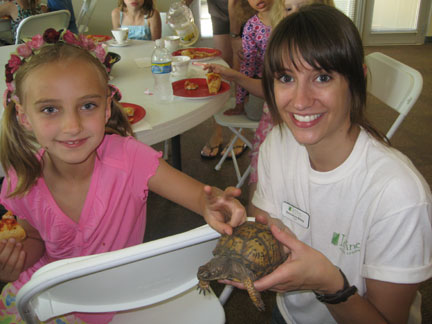 Food: You may bring food or have food delivered. We do not provide refrigeration. Please keep this in mind when you make food choices. Please bring a cooler if refrigeration is necessary. Children should wash hands thoroughly after touching animals, before eating, and before visiting the Exhibit Gallery.
Recycling & Trash: Please dispose of any trash or recyclables in the bins provided. We have single stream recycling, which means all of your plastic, glass, aluminum or paper goods can go into our recycle bin – no need to sort them. Recyclables that have food on/in them cannot be recycled unless rinsed or washed first. We ask that you leave the room as you found it upon arrival.
Supervision: You are responsible for the discipline of all children, which may include removing individuals from activities if they are not behaving in an appropriate manner. The Exhibit Gallery is open to the public during parties, therefore, all partygoers must be chaperoned while exploring.
Parking: Please park in the lot in front of the Nature Center.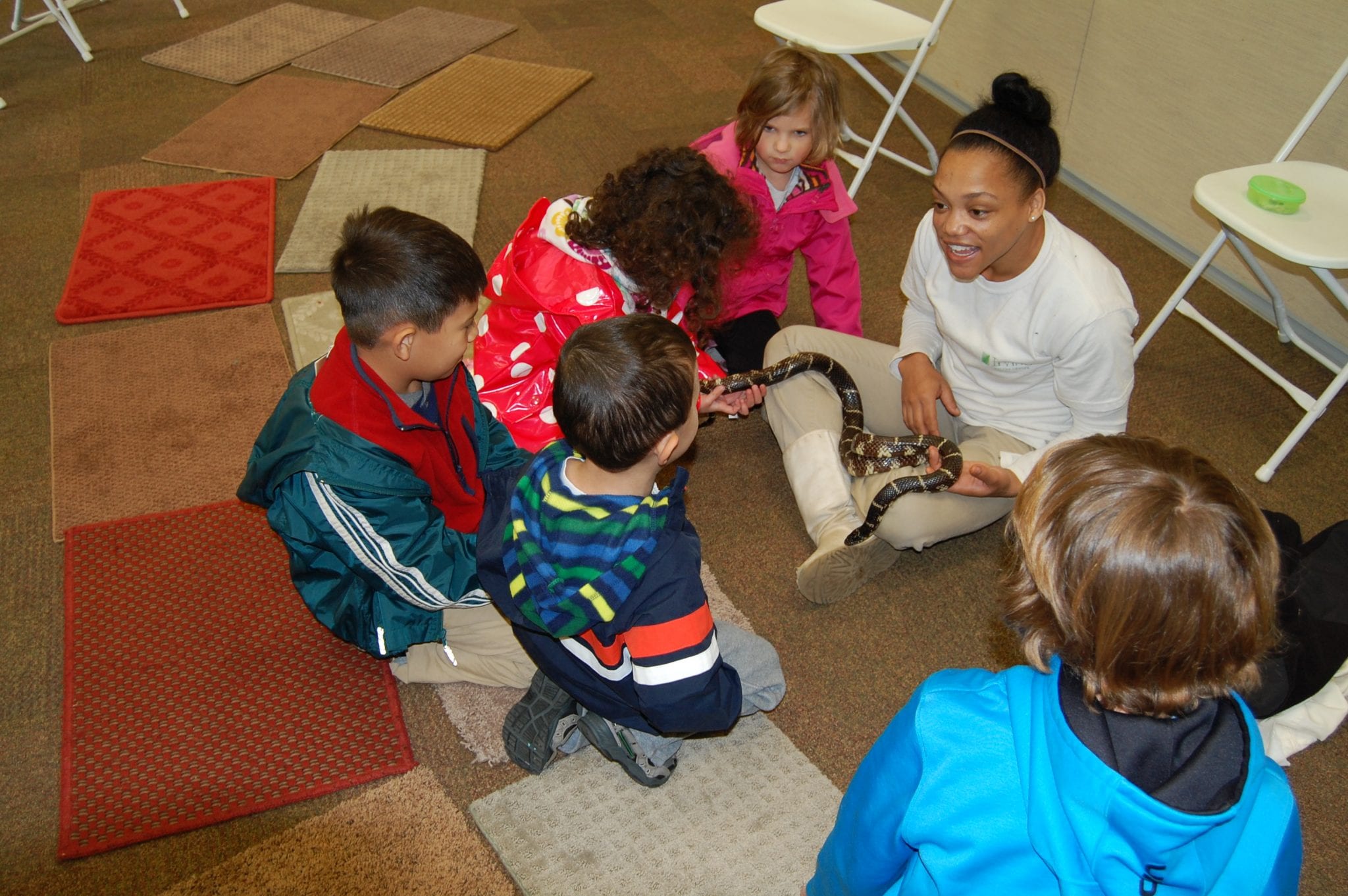 Information & Policies:
See our on-site Nature Birthday Party Information & Policy sheet.
Age: Birthday parties are offered for children ages three (3) years and up.
Scheduling: Parties must be scheduled in advance. However our parties do tend to book quickly. We advise you to give us as much prior notice as possible.
Group Size: Maximum group size is 20 children, including siblings, for both on- and off-site parties. Due to facility limitations, the on-site party attendance maximum, including adults, is 50.
Balloons: Irvine strongly discourages balloons at birthday parties because of their damage to the environment. Want some great alternatives? Read our whole policy on balloons.
Cancellation & Refund Information: If you must reschedule your party, we will do our best to find an alternative date. However, if rescheduling is not possible, the cancellation policy will apply (below)
| | |
| --- | --- |
| Cancellation Timeline | Refund Amount * |
| More than 30 days notice | 100% refund |
| 14 – 30 days notice | 50% refund |
| Less than 14 days notice | NO REFUND |
*Less non-refundable $75 deposit.
A $75 non-refundable deposit is due at the time of registration. This deposit will be used towards your total party payment, which is due two weeks later. All cancellation fees apply.