Outdoor Classroom
The latest buzz in environmental education isn't a new idea. Educators have been urging students outdoors for decades, or more accurately, for centuries. But the novel concept of an "outdoor classroom" is one that is picking up speed.
Irvine's Outdoor Classroom is a backdrop for rich, sensory learning experiences for children. It was built over a full year using thousands of staff and volunteer hours, and the end result is amazing. Families are flocking to the space for outdoor play with purpose—from learning coordination on tree stump steps, to embracing an inner artist on natural slate easels.
Learning in the Outdoor Classroom happens through both directed and self-directed activities. This means that you don't have to be with a naturalist or teacher to benefit from the space. With thoughtful planning, the learning areas facilitate state and federal curriculum standards at various ages.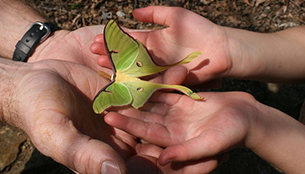 What are people saying about our Outdoor Classroom?