Immersive Outdoor Learning for 4-6 Year Olds
Rooted in the European Forest Kindergarten model, Irvine's Forest Dreamers program offers children ages 4 to 6 a rare opportunity for an entirely outdoor learning experience. Wild nature play spanning 210 acres takes place in the forest, meadows and wetlands over a 12-week fall and/or spring semester.
Children roam Irvine's vast wild habitats making their own special connections to the earth. We explore ponds and streams, play in the meadow, climb trees, examine leafy treetops and discover the amazing flora and fauna found here. We experience nature in all kinds of weather, with a campfire at our side if we need to keep warm. Children develop deep respect for the natural world as they grow to love and trust one another during weekly adventures. This is a drop-off program for children with two wonder-filled guides working alongside the group to facilitate playful exploration. The program is offered Monday-Thursday, with the option to attend only 2 days (M/W or T/Th) or 4 days (M-Th).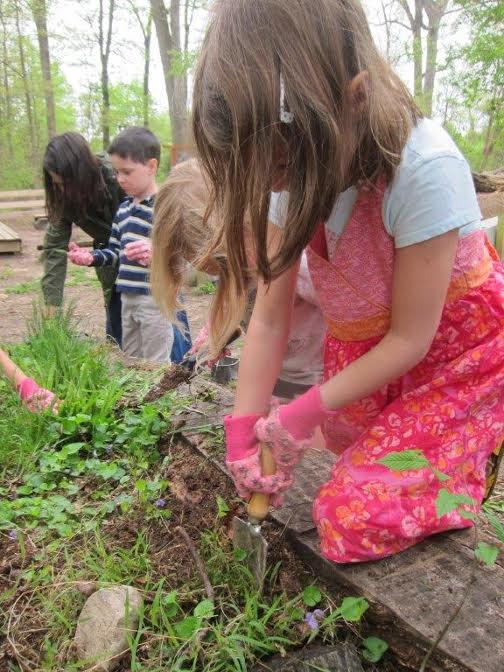 AGES: 4-6 years*

TIMES: 9:30 a.m.-12:30 p.m.

PRICE:
2-day week –  $810/semester members, $975/semester non-members
4-day week – $1,620/semester members, $1,950/semester non-members
2017 FALL SEMESTER (12 WEEKS)
Mondays/Wednesdays September 11-December 6. No class on 11/20 or 11/22.
Tuesdays/Thursdays September 12-December 7. No class on 11/21 or 11/23.
2018 SPRING SEMESTER (12 WEEKS)
Mondays/Wednesdays March 5-June 1. No class on 3/26, 3/28 or 5/28.
Tuesdays/Thursdays March 6-May 31. No class on 3/27 or 3/29.
Note: Once registration is confirmed, you will receive detailed information about program policies including trail safety and gear.
* Children must be 4 years old by Sept. 1 for fall session or Mar. 1 for spring session. If your child is enrolled in one of our afternoon programs, including Earth Friends Homeschool or Nature Preschool, s/he may join Lunch Bunch, for no additional fee, from 12:30-1 p.m. with a packed lunch.
More details are available on our Forest Dreamers Flyer.

REGISTRATION
Questions about our program? Please contact Beth Savitz at 443-738-9215. Ready to register? Sign up online beginning July 10, 2017.
Check out what parents are saying about Forest Dreamers!
"When I first learned about Irvine's Forest Dreamers pre-k program, I knew it would be the perfect fit for my 4-year-old son's first school experience — and it truly was. No matter the weather, the teachers Ms. Paula and Ms. Sophie were dedicated to exposing the students to nature's finest, which included fun activities like painting with rain water, making mud pies, sledding while staying warm with hot chocolate, lots of campfires, and exploring habitats from meadows to ponds. All along the way, the kids would record their observations by writing and drawing in their nature journals, which was neat to look back over at the end of the semester. Ms. Paula would also write a weekly blog complete with pictures to keep parents up-to-date. I found it especially helpful to know what books they were reading so I could check them out at the library and it served as a great way to relive the memories and the lessons learned. Forest Dreamers is a perfect match for kids who love the outdoors and parents looking for a non-traditional, creative, high-value educational approach at the preschool level."
-Keri B.