Corporate Partnerships
Irvine benefits from a diverse and growing list of corporate partners who make our work possible. We offer a variety of partnership options and are happy to discuss unique arrangements to meet your company's giving preferences. All the partnership options increase your company's visibility among our more than 80,000 visitors each year.
Event Sponsorship
Varied sponsorship levels and options are available for Irvine's annual signature events: Pumpkins on the Green, Birdies on the Green, Pumpkinfest and the Treehugger 5K. Sponsor benefits may include recognition on event signage and in event publications, free rentals, employee volunteer projects and free animal encounters for your employees at your work site.
Gifts & Grants
A varied portfolio of educational programs delivered throughout the Baltimore region – from urban education and teacher professional development to afterschool programs and overnight camping – offers funding opportunities that support corporate, foundation and individual philanthropic priorities.
Gifts-in-Kind
Partners can provide support to Irvine by donating some of the many goods and/or services that we need to be successful in our mission. We have benefited from a wide range of gifts in-kind including tree service, event publicity, catering services, professional services, design services, and donations of needed building materials.  A conversation with our Director of Development can help match your resources with Irvine's needs.
Workplace Giving & Matching Gifts
Encourage your employees to give to Irvine by establishing a workplace giving program that allows them to donate a portion of their paycheck throughout the year. Also consider further leveraging these gifts by establishing a matching gift program.
Volunteering
Volunteers are vital to Irvine's success, last year donating more than 20,000 hours of their time and saving Irvine more than $500,000.  Volunteers might weed gardens, maintain trails and facilities, staff special events, serve as volunteer naturalists, and assist with mailings. We will work with you to match Irvine needs with your employee interests and time availability. Contact Volunteer Coordinator Diana Roman at 443-738-9240.
Rentals
If you need a space for a staff retreat or corporate event, consider Irvine. Our Exhibit Hall accommodates 150 guests standing, our Fern Rooms seat 60 for dinner, a large tent seats 140, and our outdoor spaces are a wonderful change of scene from high-rise offices. Contact Rental Coordinator Lauren Bowyer at 410-527-0007. for details.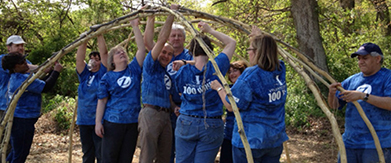 Corporate Partners
Irvine Nature Center would like to say thank you to the following corporations:
A. R. Marani
Alban Cat
Arbor Valley Tree Service
Armada Hoffler
Ashton Design
Baltimore Ravens
Bay Harbor Wealth Management
BB&T
Becket Hitch
Becton Dickinson Diagnostic Systems
Beechbrook Landscape Architecture
BGE
Black Oak Associates
Bob Jackson Landscaping
Bolton Partners
Bozzuto Group
Brown Advisory
Campbell and Company
CANUSA Corporation
Carroll Masonry & Concrete Construction Services
Caves Farm
CFG Capital Markets
Charm City Run
Chesapeake Beverage Company
Classic Catering Company
Coffey & Company
Constellation, an Exelon Company
Cordish Companies
Cornerstone Financial
Cowan Systems, LLC
Croft Investment Management
D. F. Dent and Company
Delbert Adams Contruction/Sunnyfields Cabinetry
Eat & Smile Catering
Edgesource
Eisenbrandt Companies
FFO Real Estate Advisors
Gaudreau Inc.
Green Law Firm
Greenberg Gibbons Commercial
Greenspring Associates
Halcyon Asset Management
Harbor Investment Advisory
Hill and Company Realtors
HMS Insurance Company
Hoffberger Family Philanthropies
Howard Bank
Intercontinental Exchange
Jamin Development
K O Public Affairs, LLC
Klein Agency
Knott Mechanical
Larson & Associates LLC
Lisa Vogel Agency
Loane Bros.
M & T Bank
MacKenzie Commercial Real Estate
Marathon Capital Management, LLC
Maryland Capital Management
Mason Champion Group at Morgan Stanley
Maury Donnelly & Parr, Inc
McCauley's Landscaping, LLC
McCormick & Company
McGuire Woods
Mechanical Engineering and Construction Corporation
Merritt Management Corp.
Monument Sotheby's International Real Estate
Morgan Stanley
Natural Concerns, Inc.
Niles, Barton & Wilmer
Obrecht Properties
Peoples Bank
Platt Development Group, Inc.
PNC
Quotient
Resource Environmental Solutions
Rosemore
Rouge Fine Catering
Royal Farms
Santonis
Security Associates
Stanley Black & Decker
Stevenson University
Stifel
Stifel Nicolaus & Company
Susquehanna Bank
Sylvan Laureate Foundation
T. Rowe Price
T. Rowe Price Foundation, Inc.
The Cordish Family Foundation
The Daily Record
The M&T Charitable Foundation
The Oregon Grille
The Valley Inn, Inc.
The Wells Fargo Foundation
The Whit Harvey Group
Thomas and Libowitz, P.A.
Transamerica
Tufton Capital Management
Vane Brothers
Venable Foundation
Ward-Boland Associates
Wilmington Trust
Womble Carlyle Sandridge & Rice
WPM Real Estate Management
WYPR
Zeffert & Gold Catering
Special thanks to the Citizens of Baltimore County for their financial support.